Summary Details: With less than 42 days to go till the start of the 2012 London Olympics, insurance4carrental.com is reminding visitors to arrange their car hire, car hire excess insurance and travel insurance now.
Visitors to the London 2012 Olympics will have booked their accommodation and travel a while back. But have they booked their car hire, arranged their car hire excess insurance and travel insurance yet? Many car hire organizations like Holiday Autos and Carrentals have been advising their customers to book early for a while now.
Apart from booking car hire in advance you can also normally arrange car hire excess insurance well in advance as well as travel insurance.
There is a great choice of car hire excess insurance companies advertising their products on the insurance4carrental.com site plus van hire excess insurance companies and motorhome hire excess insurance companies.
A couple of the advertisers are currently discounting some of their products. Insurance4carhire.com's Annual Europe which normally costs £49.00 but if the customer buys through the link on the insurance4carrental.com site it is £39.20 and their Worlwide 31 policy which is normally £65.00 is discounted to £52.00 a year, but the customer has to go through the dedicated link at insurance4carrental.com.
Questor Insurance is the other insurance company offering a discount for customers buying their products through the dedicated link at insurance4carrental. They simply add a discount code and save 10 per cent.
Apart from those companies offering additional discounts, the other car hire excess insurance companies advertising on the site have very competitive prices.
Worldwideinsure, Carhireexcess.com, Essential Travel, iCarhireinsurance.com, Protectyourbubble and Odyssey Insurance are these other advertisers. They all have dedicated links to the insurance company sites so the customer makes all arrangements direct.
The same procedure happens with Car hire itself. Holiday Autos, Economy Car Hire, RentalCars.com and Carrentals.co.uk are the featured advertisers.
Philip Suter of jml Property Servicese the company that runs the site said " Don't forget your travel insurance when taking your London 2012 holiday. Apart from a large selection of advertisers featured on the jml-insurance.co.uk site, we have also created a specialist page at insurance4carrental.
Well known names advertise here including Endsleigh, Worlwideinsure, Direct Travel, Essential Travel, Simple, Quotezone, Staysure insurance for the over 50's, JS Insurance, Simple Travel Insurance, Travel Plan Direct, Primary Insurance, Insureme4.co.uk Travel Insurance and Blue Insurances Group range that includes annualtravelinsurance.com, Multitrip.com and Backpackertravelinsurance.com.
Four other specialist travel insurance companies to be found there are Travel Insurance Medical Insurance, Kinsure Emergency Medical Travel Insurance. Prorectectmyholiday.com Financial Failure Travel Insurance and Kidnap and Ransom Travel Insurance.
The London 2012 Olympic Games and the Paralympic Games being held between 29 August and 9th September (just under 75 days) time are a once in most people's lifetime experience. Hopefully the weather will be favourable and visitors will have a memorable experience of visiting London.".
More information at www.insurance4carrental.com
Company Information jml-property-Insurance.co.uk is part of jml Property Services, the trading name of Jeffrey Milner Ltd. The company is an UK based company that was established in 1979. jml insurance acts as a web promoter for insurance companies selling property insurance including landlord and tenant rental products, pet insurance, wedding insurance, motor insurance, car hire excess insurance (via insurance4carrental.com), van hire excess insurance (via insurance4vanrental.com), motorhome insurance (via insurance4motorhomerental.com) travel insurance and non standard insurance products and irishpropertyinsurance.com for the Irish market. They also operate jmlvillas.com an online marketing service for owners of holiday home property to advertise and are part of the jml Group that includes jml Training and Consultancy.
Ends...
© jml Property Services June 2012
Return to Media - Press Releases
______________________________________________
The jml Insurance website advertises and introduces you to many insurance products. To enter this site click on logo below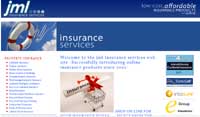 ______________________________________________