holiday autos offers the best fully inclusive car hire prices in over 4,000 rental locations UK and worldwide. Get cheap car hire quickly and securely online, the experts in online car rental.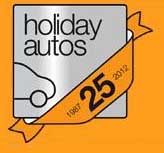 holiday autos was 25 in 2012
Remember they have good rates on cars of all sizes to suit all needs - from small 'runarounds' to minivans and convertibles. So whatever the occasion, holiday autos has the car to match.
They also have Van Hire - A car just not big enough? Looking for van hire? We've got great rates in 130 UK locations and Motorhome Hire - Off on holiday? Don't fancy a hotel? Hire one of our great value motorhomes instead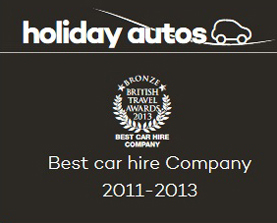 xxxxxxxxx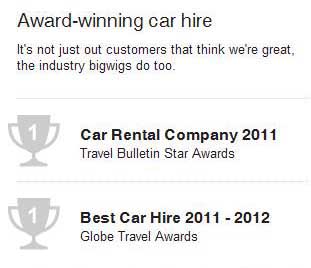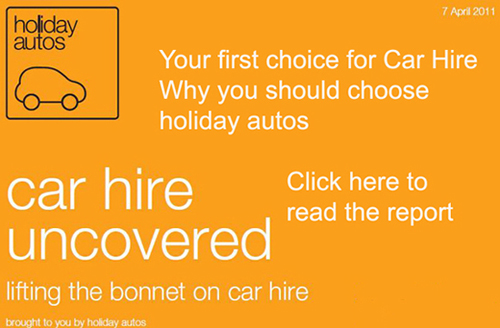 ______________________________________
Below is a selection of videos from Holiday Autos
See also:
Holiday Autos is now to become part of CarTrawler - June 2013
Car hire company Offers Travellers a Cheaper Alternative to Trains for Going Home This Christmas - December 2012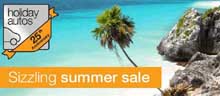 Sizzling Summer Sale from Holiday Autos Car Hire - June 2012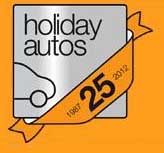 Holiday Autos Celebrate 25 Years with 25% off 25 popular worldwide locations for one month only - May 2012
Flash Sale discounts at Holiday Autos - February 2012

An award winning start to 2012 for Holiday Autos - February 2012
New faces at Holiday Autos as it improves it's marketing team - December 2011
Find your perfect winter escape with holiday autos - November 2011
TripAdvisor links with Holiday Autos for new partnership - July 2011
Car hire prices fall for first time in four years say Holiday Autos - June 2011
Handy Tips For Car Hire Journeys
Useful tips for a great car hire experience

______________________________________

TripAdvisor links with Holiday Autos for new partnership
20th July 2011
This week sees the launch of 'Tank of Gas', an innovative partnership between leading leisure car hire broker Holiday Autos and TripAdvisor, the world's largest travel site.
The partnership sees Holiday Autos enabling TripAdvisor users to discover daytrips and getaways from a specific destination just a tank of petrol or less away.
Ideal for weekends away and impromptu trips, the partnership aims to illustrate the wealth of options available for travellers whether they have a whole, half or even a quarter tank of petrol.
Darren Hughes, TripAdvisor's senior sales executive, commented: "As the world's largest travel site we aim to provide travellers with everything they need to plan the perfect trip.
"Partnering with Holiday Autos means travellers can quickly and easily view driving distances, providing that additional layer of inspiration for travellers looking for their next trip."
Using co-branded dynamic banners, the user's starting destination point is pre-populated (or can be easily edited to a different destination) and very quickly, a selection of the furthest destinations they can travel to is presented, based on either a quarter, half or full tank of petrol.
The search results page pulls in TripAdvisor location suggestions and users can switch petrol level options directly on the results page to instantly see the freedom they have with the amount of petrol in their tank.
By clicking on a destination within the Tank of Gas results page, users will be driven to a destination specific Quick Guide - a streamlined guide with top hotels, attractions and restaurants compiled specifically for that destination. This page can also be shared via email or through various social media platforms.
Hema Nagar, head of marketing at Holiday Autos said: "We are delighted to be working in partnership with TripAdvisor on this innovative marketing campaign.
"Often we know exactly where we want or need to go but sometimes it's fun to spontaneous and discover something new.
"As experts in car hire, we always like to go further for our customers and this partnership allows us to provide a range of destination ideas from TripAdvisor to give drivers a little inspiration and encourage them to enjoy the freedom and wealth of options that come with hiring a car."
To see just how far you can go, simply visit the website.