The site shows the Excess amounts charged by the major car rental companies, as well as the daily rates they charge to reduce the Excess.

The information was originally compiled during April 2007 by Insurance4carhire staff calling each car rental company's airport location at the international airport in the capital city of each country – more than 180 locations in total - and the costs are based on the daily cost of excess for a compact size car.

The survey was conducted in more than 30 countries across Europe, South Africa, New Zealand, Australia, USA and Canada. The car rental companies surveyed are: Alamo, Avis, Budget, Europcar, Hertz and National
It clearly and simply shows the consumer:
What their exposure is to Excess on their rental – information that is often hidden and very difficult to get even when you call the car rental location

When you hire a car, your car rental agreement includes cover for Collision Damage Waiver (damage to the rental vehicle) and Theft
There is almost always an Excess on the Collision Damage Waiver and Theft.
Excess is also known as, non-waiver, the deductible or super CDW. Excess is a voluntary insurance and is sold by car rental companies at the counter when the customer collects the car. It is usually charged on a Daily basis. The customer has the right to accept or decline the car rental companies Excess. If they do decline, they will be responsible for the excess charges if they have any damage to the vehicle.
The cost of the Excess will vary according to:
The rental company
Size of the rental vehicle
The country in which the car is picked-up
Follow this link to visit the site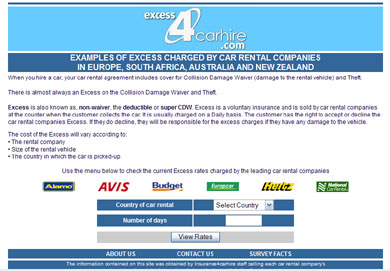 insurance4carhire.com is a tradining name of Towergate Underwriting Group Ltd which is authorised and regulated by the Financial Conduct Authority , Register Number 313250. The company is registered in England and Wales, Company No. 4043759. The Registered Address is: Towergate House, 2 County Gate, Staceys Street, Maidstone, Kent ME14 1ST.
Details in the above might not be current
______________________________
______________________
See also Insurance4carhire.com Group Press Releases +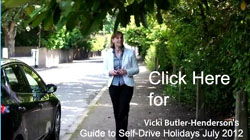 insurance4carhire presents Vicki Butler-Henderson top tips for self drive holidays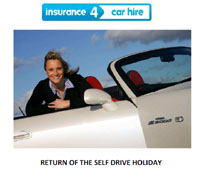 Return of the Self Drive Holiday - Fifth Gear's Vicki-Butler Henderson suggests the Top 10 Driving Holiday Routes - January 2012
Jubilee replaces Chartis as underwriter on insurance4carhire Europe - November 2011
insurance4carhire car hire insurance still great value via insurance4carrental.com site - May 2011
It must be Christmas insurance4carhire lowers price - April 2011
Winter saving with insurance4carhire - October 2010
Insurance4carhire and the JML Group Strike Gold - August 2010
Insurance4carhire.com the Car hire insurance specialist lowers costs of Annual European Policies Press Release -July 2010
insure4excess.com launches new policies at competitive prices
Celebrity Mechanics and Nightmare Passengers - April 2010
Maps Sat Navs and forgotten underwear - April 2010
Insurance4carhire.com offers huge savings for holiday makers - Press Release April 2010
How the road more travelled can cost less with insurance4carhire.com - April 2010
Insurance4carhire.com gives back to the community throughout 2009 - April 2010
Which? Holiday Research brings credit to insurance4carhire.com
Renting a car close to home, can I buy car hire excess insurance? Blog July 09
Insurance4carhire.com's Best Drives in the US - January 2009
Money saving, Peace of Mind and Top Tips from Insurance4carhire.com this Winter - December 2008
How the road more travelled can cost less with insurance4carhire.com - April 2010
Renting a car close to home, can I buy car hire excess insurance? Blog July 09
Drivers Down Under Hit by biggest Car Hire Excess Charges – Don't go the distance without protection, warns INSURANCE4CARHIRE.COM - Excess charges incurred by drivers in Australia disproportionately high compared to other motorists - June 2008
Drivers Abroad are stumped by hefty Car Rental Excess costs, but could save £££'s on the holiday budget with an annual policy - April 2008
Confusing car rental jargon, unclear insurance policies and excessive excess – The Big 3 pitfalls that can leave you out of pocket when hiring a car on holiday, warns Insurance4car.com - April 2008
Age no barrier to protection for older drivers – Low cost excess waiver policy helps over 75s stay on the Road - March 2008
Brits set to get stung this Easter with Sky-High excess insurance costs – EU car rental firms cash in on UK drivers with massive excess charges - March 2008
insurance4car hire.com - March 2008
Brits go holiday crazy reckons major survey – but Insurance4carhire.com says watch out for excess car hire charges - March 2008
Trusting travelers tripped up by Holiday Car Hire pitfalls – Wise up or pay up, says Innsurance4carhire.com - March 2008
The Great Excess Insurance rip-off - EU Car Rental firms fleece Brit drivers with massive excess Penalties - February 2008
Towergate Partnership announces the acquisition of Insurance 4 Car Hire Agents Ltd - January 2008
Lower prices for car hire excess insurance from December - December 2007
Annual Car Rental Insurance Renewal is here again - October 2007
ALSO: Exercise your constitutional rights in the air - January 2001
Driving in Australia | Driving in Canada | Driving in New Zealand |Driving in the USA |Driving in Europe (with detailed country guides)| Driving in South Africa