Riverside Underwriting Limited Third Floor Riverside House, 40-46 High Street, Maidstone, Kent ME14 1JH, United Kingdom aauthorised and regulated by the Financial Conduct Authority (FRN 466942)
_______________________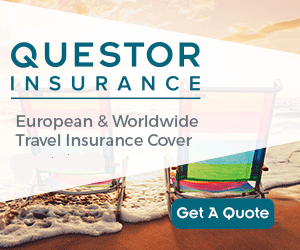 Questor Travel Insurance - Standard - Winter Sports - Backpackers
_______________________
_______________________
Questor's Insurance Jargon Buster
At Questor Insurance we know insurance can be tricky, that's why we have put together a handy guide to understanding insurance jargon!
CDW: Also known as collision damage waiver. This is the insurance which covers the full value of the hire vehicle. This is usually included in your rental package, leaving you liable for an excess fee rather than the full amount of the vehicle.
If you do not have CDW included in your rental package, you will be liable for the full amount of the vehicle rather than an excess fee, in which case you can purchase our additional CDW insurance up to £50,000. If you have this optional extra you will only require third party insurance in place with your rental package.
LDW: Also known as loss damage waiver. This covers you for any physical loss or damage to the hire vehicle for which you are responsible for under the terms of the hire agreement following a fire, lightning strike, explosion, accident, accidental damage, theft or attempted theft, malicious damage, storm and flood. This section includes loss or damage to auto glass, roof, tyres, wheel rims and the under body and towing and loss of use.
You may find that you have a zero excess policy in place with your rental, however you could still be liable for the full costs of any damage to tyres, windscreen and underbody of the vehicle. Our standard policy will cover you up to £5,000 for this type of damage.
Third party Insurance/ Third party Liability/supplementary liability: This is the insurance which covers you for any damage caused to another person or their property. This is mandatory within Europe and you may find that it is generally always included in the rental package as standard. However, when travelling outside of Europe, you may find that you need to purchase this separately or as an extra with your rental. Unfortunately we are unable to offer this type of insurance.
Excess: This is the amount that you will be held liable for when you have CDW insurance in place with your rental package. An excess fee is typically anything between £500-£2,000. This is the amount which you will be charged in the event that the vehicle is damaged. Beware that rental companies can charge you the full excess fee regardless of the cost of damage before the vehicle is repaired.
Deposit: This is the amount which the rental company will hold on your credit card upon your arrival at the rental desk. In the event of damage, they will keep this charge.
Reimbursement: Our policy is reimbursement insurance. This means in the event that you damage the hire vehicle, the rental company will charge you the fees and you would then claim those fees back through our claims handlers.
FYI: With our insurance, you will not require the additional insurance that the rental company offers you at the rental desk (Super CDW, comfort waiver etc.). The rental company will ask you to leave a deposit on your credit card and in the event of damage, they would keep this charge and you would then have 31 days from the incident to notify us and claim back for reimbursement.
Excess reimbursement is a non-mandatory insurance. Therefore, you are not required by law to purchase either our cover or the rental company's extra daily waiver. You may be aware that rental companies can often be pushy when offering their excess waivers as this is where they earn their commission. Our insurance should not be declined unless it states in their terms and conditions that they do not accept insurance provided by a third party.
Source: Questor Insurance Services Limited July 2015
See also:
Questor Insurance's Travel postcard Guide to Switzerland Here
Questor Insurance's Travel postcard Guide to Sweden Here
Questor Insurance's Travel postcard Guide to Cephalonia Here
Andrew Lawrence talking about Darren Timms Questor Insurance Sponsorship
_______________________
Key trends for 2013/14 winter holidays revealed – Questor Insurance comments - October 2013
Questor Insurance comments on research which reveals travellers' most common car hire concerns- October 2013
Questor Insurance comments about the most expensive destinations for car hire being revealed - August 2013
New golf travel insurance policy launched by Questor Insurance Services - July 2013
Questor Insurance comments on Drivers facing £500 in car hire extras - July 2013
Questor Insurance reveals that holidaymakers planning a stay in Florida may still need to secure an International Driving Permit (IDP) - June 2013
Questor Insurance looks at figures which reveal that UK motorists are set to see a sharp rise in petrol costs across Europe this year - June 2013
'Be Holiday Savvy' campaign launched by Questor Insurance - June 2013
Minibus Excess Insurance has been launched by Questor Insurance - June 2013
Questor van hire excess insurance now available via jml Insurance websites - October 2012
Six Questor Insurance products are now being advertised on the JML Insurance sites - July 2012
Questor car hire insurance to be discounted through till the end of 2012 - January 2012
Car Hire Insurance Price Crash - December 2011
Discounts on Questor Car hire insurance via insurance4carrental.com - May 2011
Questor for motorhome hire insurance - February 2011
Questor car hire insurance continues to be discounted on sales generated via jml Group websites - February 2011
Avoiding frosty insurance claims this winter - Questor insurance December 2010
Questor insurance discounted on sales generated via jml Group websites - October 2010
insurance4carrental.com website is marketing motorhome excess insurance - Press Release July 10
Questor Insurance featured provider July 10 on Car hire excess insurance blog
Questor innovates its car rental insurance product - October 2008
Questor appoints 2 Business Associates - May 2008
Questor Insurance re-launches its web site - Questor's Chief Executive Andrew Lawrence, today annouces the relaunch of the Questor Insurance web site www.questor-insurance.co.uk - May 2008
jml Insurance is now working with Questor Insurance - jml Insurance are now introducing Questor Car Hire & My Driving Licence products to assist with the growing number of people receiving speeding fines and renting cars - September 2008