Self-Drive Minibus Hire - There are different size of mini buses that can be rented. The most popular sizes of minibus are 8/9 seats, 12 seats, 15 seats and 17 seats and this includes the driver. If you are hiring a mini bus, do make sure there is enough room for all your passenger plus their luggage
Driving licence requirements for mini bus drivers.
According to Directgov for the UK, Driving licence held before 1 January 1997 :- If you had entitlement to drive cars before 1 January 1997 you can drive a minibus provided it has a maximum of 17 seats including the driver's seat and is not being used for hire or reward. Your minibus entitlement will remain valid in the United Kingdom until your licence is next renewed.
When your licence is renewed, your minibus entitlement can only be issued if you make a special application, which will involve meeting higher medical standards. If your minibus entitlement is renewed, at the age of 70, you will normally be granted a licence for three years that will allow you to drive a minibus not for hire or reward. If your minibus entitlement is not renewed, the entitlement will no longer appear on your licence.
For more information click on image

Click on the image below to download DVLA PDF Guide" Driving a minibus"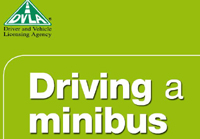 The free Adobe Acrobat Reader for "PDF"s is available to download direct from Adobe by following the link to read this information
______________________________________________
If you are in the Self Drive Van Hire business and are looking for insurance for your hire vehicle fleet - find out more about INSURECARHIRE.co.uk HERE - Also Car Hire and Motorhome Hire
______________________________________________
Looking for temporary car or van insurance? Find out more by clicking on the logo below

_____________________________________________

insurance4carrental.com promotes car hire excess insurance companies - van hire excess insurance companies - motorhome hire excess insurance companies - minibus hire excess insurance companies - insurance companies providing insurance for the self drive hire vehicle business - car hire companies - van hire companies - motorhome hire companies- Travel insurance companies Find out more about us Here