Company Information
jml-property-Insurance.co.uk is part of jml Property Services, the trading name of Jeffrey Milner Ltd. The company is an UK based company that was established in 1979.
jml insurance acts as a web promoter for insurance companies selling property insurance including landlord and tenant rental products, pet insurance, wedding insurance, motor insurance, car hire excess insurance (via www.insurance4carrental.com), van hire excess insurance (via www.insurance4vanrental.com), travel insurance and non standard insurance products.
They also operate jmlvillas.com an online marketing service for owners of holiday home property to advertise and are part of the jml Group that includes jml Training and Consultancy.
© jml Property Services March 2010
Return to Media - Press Releases
Return to Car Hire Excess Blog Notes Info
_______________________________________
See also:
Hire Cars Costing Around 100% More Again With Extras at the Car Rental Desk - October 2013
Unrecorded Damage Found by One in Three Who Have Hired a Car for Business - September 2013
Van hire customers are warned that they risk up to £1000 if the vehicle is damaged - April 2013
icarhireinsurance points out possible extra car hire charges over Easter 2013 - "Car Hire Hot Spots Over Easter" - March 2013
iCarhireinsurance mentioned in Daily Telegraph Car hire on a Skiing Holiday feature today - January 2013
Do you know that Extras at the Car Rental Desk Can Double Cost of Car Hire for Families - October 2012
Did you know that you can buy carhire excess insurance for a week for the equivalent of one week's pension? - October 2012

Car Hire Excess Costs Consfuses Consumers - June 2012
Jubilee 'DIY' weekend could be a costly exercise for some if thery hire a van - May 2012
Your car hire bill could rise by 75% as a result of a hidden cost - March 2012
Save money on car hire excess insurance and take a winter break - January 2012
iCarhireinsurance comes up with New Year Tips to stop car renters being ripped off - January 2012
Don't Lose Your Christmas Cheer with the Hire Car says iCarhireinsurance.com - December 2011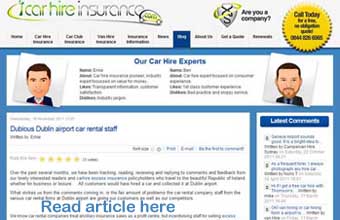 Dubious Dublin Airport car rental staff - November 2011
iCarhireinsurance.com in finalists for Startup Awards 2011 - November 2011
Confusion over US Car Hire Insurance Could Cost Winter Sun Seekers Dear - iCarhireinsurance - October 2011
Hiring a van to transport student's stuff to Uni? - September 2011
UK Holidaymakers Find Foreign Drivers Very Aggressive - August 2011
Car hire insurance featured on BBC Radio 4 You and Yours - July 2011
Car Hire Drivers in a Spin About Car Hire Insurance - iCarhireinsurance - June 2011
"Which?" launch super complaint against "rip-off credit card charges" - April 2011
Van hire insurance company research reveals that drivers lack experience driving rental vans - April 2011
Affordable Car Hire teams up with Halo Insurance - March 2011
Halo Insurance partners with Chubb in Germany - February 2011
Excess Insurance @ iCarhireinsurance
Hot Tips for iCarhireinsurance
Jargon Buster @ iCarhireinsurance
iCarhireinsurance.com appoints Ben Wooltorton as Sales and Marketing Director - January 2011
iCarhireinsurance.com van hire excess insurance now being promoted at insurance4vanrental.com December 2010 Press Release
Car Hire drivers warned to check their insurance this Christmas - iCarhireinsurance - December 2010
Top Tips for Car Hire This Summer - iCarhireinsurance.com - July 2010
Over £800M Wasted on Over-Priced Hire Car Insurance Policies iCarhireinsurance Press Release June 10
Hire Car Drivers Urged to Take Out Insurance With Cancellation Cover - May 2010
iCarhireinsurance.com awarded membership of the BVRLA
Check online car hire alternatives - May 2010
Van hire excess insurance for only £7.99 a day available from iCarhireinsurance - December 2010
iCarhireinsurance.com is featured insurance provider - December 2010
iCarhireinsurance.com been awarded membership of ABTA Trade Industry Partner Scheme - May 2010
iCarhireinsurance.com in The Guardian and Independent on Sunday - March 2010
Bridges Ventures and Magenta Partners launch Halo Insurance Services - March 2010
What is Car Rental Insurance @ iCarhireinsurance?
iCarhireinsurance.com being marketed on the insurance4carrental.com website Press Release March 2010