Summary Details: In October 2010 Questor Car hire insurance started a discount scheme of 10% on their products for customers purchasing via a link on the jml Insurance / insurance4carrental.com websites.
Questor Insurance are very pleased to announce that this offer has now been extended till the 30th June 2011.
Questor Insurance has been selling car hire excess insurance for a number of years and last July Questor's Campervan / motorhome excess insurance started to be promoted on the jml Insurance group's sites.
Questor Insurance also provides car hire excess insurance for other companies including Carrentals and Intasure.
A spokesperson for the jml Group said "this was very good news particulary when consumers have become very cost conscious with the present economic climate in so many countries. Non-UK residents are eligible to purchase Questor car hire excess insurance so it is good news wherever you live."
Find out more by following this link insurance4carrental.com/questor.htm#Discount where you make all the arrangement direct with Questor insurance.
Apart from Questor Car hire insurance, jml also promotes insurance4carhire, dailyexcess.com, Essential Travel, iCarhireinsurance,Odyssey and Protectyourbubble and Worlwideinsure via the link on www.insurance4carrental.com, www.jml-insurance.co.uk or www.jml-property-insurance.co.uk
Ends
Company Information
jml-property-Insurance.co.uk is part of jml Property Services, the trading name of Jeffrey Milner Ltd. The company is an UK based company that was established in 1979.
jml insurance acts as a web promoter for insurance companies selling property insurance including landlord and tenant rental products, pet insurance, wedding insurance, motor insurance, car hire excess insurance (via www.insurance4carrental.com), van hire excess insurance (via www.insurance4vanrental.com),motohome insurance (via www.insurance4motorhomerental.com ),travel insurance and non standard insurance products.
They also operate jmlvillas.com an online marketing service for owners of holiday home property to advertise and are part of the jml Group that includes jml Training and Consultancy.
© jml Property Services February 2011
Following on from that See:
Questor Insurance's Travel postcard Guide to Switzerland Here
Questor Insurance's Travel postcard Guide to Sweden Here
Questor Insurance's Travel postcard Guide to Cephalonia Here
_____________
Questor Insurance discounts continue for 2019 at jml Insurance sites - January 2019
Key trends for 2013/14 winter holidays revealed – Questor Insurance comments - October 2013
Questor Insurance comments on research which reveals travellers' most common car hire concerns- October 2013
New golf travel insurance policy launched by Questor Insurance Services - July 2013
Minibus Excess Insurance has been launched by Questor Insurance - June 2013
Questor van hire excess insurance now available via jml Insurance websites - October 2012
Six Questor Insurance products are now being advertised on the JML Insurance sites - July 2012
Questor car hire insurance to be discounted through till the end of 2012 - January 2012
Questor for motorhome hire insurance - February 2011
Questor car hire insurance continues to be discounted on sales generated via jml Group websites - February 2011
Avoiding frosty insurance claims this winter - Questor insurance December 2010
Questor insurance discounted on sales generated via jml Group websites - October 2010
Car Hire Insurance Price Crash - December 2011
Discounts on Questor Car hire insurance via insurance4carrental.com - May 2011
Questor for motorhome hire insurance - February 2011
Questor insurance discounted on sales generated via jml Group websites - October 2010
insurance4carrental.com website is marketing motorhome excess insurance - Press Release July 10
jml Insurance is now working with Questor Insurance - September 2008

_____________
The jml Insurance website advertises and introduces you to many insurance products. To enter this site click on logo below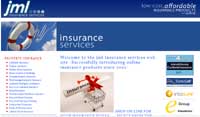 _____________
Car hire Excess Insurance Blog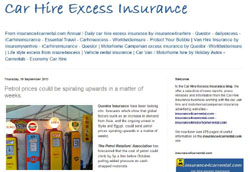 _____________