Key rules, regulations and things to know

Driving: Drive on the right and overtake on the left.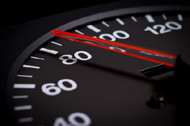 Speed limits: Built up areas: 50km/h (31mph) - Major roads outside towns and cities: 100km/h (62mph) - Motorways/autobahn: 130km/h ( 80mph).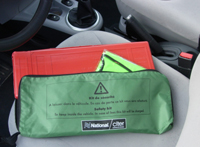 Warning / Emergency Equipment: It is now the law to carry a warning triangle, first aid kit and a fire extinguisher.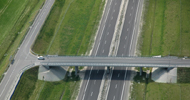 Motorways/ Autobahn: A motorway tax disc (Vignette) must be displayed - weekly or monthly versions can be obtained from most petrol stations. The following motorways charge tolls: A10 Tauern motorway, A9 Pyhrn motorway, A13 Brenner motorway and the S16 Arlberg Tunnel.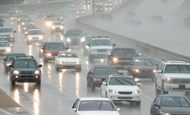 Headlights: Flashing of headlights is used as a warning. Dipped headlights should be used in built-up areas at night.
Motorists should not overtake a parked school bus which has flashing red and yellow lights.
Horns may not be used where their use is prohibited by a road sign. This applies in many large towns and cities, (mostly at night), and in Vienna at all times.

Seat Belts: Seatbelts are compulsory in the front and rear for the driver and all passengers.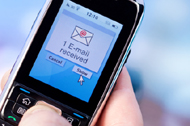 Mobile Phones: It is illegal to use a hand held mobile phone whilst driving. Don't risk using one as you can receive a heavy fine in most countries and more important cause a serious accident.

Parking: A 'pay and display' parking system operates in major towns for which tickets can be purchased from tobacco shops.

Disabled Parking:
The Blue Badge is recognised in all European countries
-
More information Here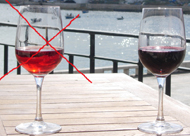 Drink and Driving: Blood alcohol limit is 0.05 More information Here This is a low limit and drinking more than one small glass of wine will be over the limit.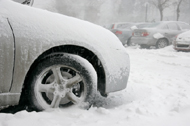 Winter Tyre Requirement: These are compulsory from 1st November to 15th April.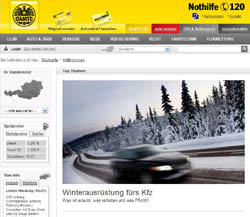 Österreichischer Automobil Motorrad und Touring Club - (ÖAMTC) To enter the site, click on the image above left

Information from holiday autos about Austria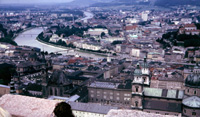 Austria, bordered by Germany, Liechtenstein, Switzerland, Slovakia, the Czech Republic, Hungary, Slovenia and Italy is not only famous for its excellent skiing resorts but its fantastic scenery. It has magnificent mountains, a breath taking lake district lending itself not only to skiing but to walking and climbing. The most popular tourist regions are Vorarlberg, Tirol, the Salzburg Province and Carinthia.
Austria is home to the von Trapps, Arnold, Mozart and, for all your Strictly fans, the Waltz. When using your carhire make sure you have some cash to hand, toll charges apply to all Austrian motorways. Book your Austria car hire, roll down your windows and try a bit of yodelling with the locals.
car hire in Insbruck - Innsbruck – the largest supplier of cochlear implants; must be all that yodelling. A great base for winter sports, in fact it's the largest ski resort in the Alps. Don't just stick to one piste, book Austria car hire in Innsbruck and experience them all. Not much of a skier? Drive the hire car up the Alps to Europe's highest zoo. See Alpine animals in their natural environment .
top driving tip - You must have a toll sticker on your hire car if travelling on Austrian motorways (Vignette). You can pick one up at most petrol stations.
Information source holiday autos
Capital: Vienna
Telephone Country Code: +43

Emergency Telephone number: pan-EU Emergency 112 Can be used in all EU Countries and it can be dialled from a locked mobile or a mobile with no sim card. We have driving guides for those countries marked in red below (plus other non EU member European countries).
Austria - Belgium - Bulgaria - Cyprus - Czech Republic - Denmark - Estonia - Finland - France - Germany - Greece - Hungary - Ireland - Italy - Latvia - Lithuania - Luxembourg - Malta- Netherlands - Poland - Portugal - Romania - Slovakia - Slovenia - Spain - Sweden
It is not a lot and in some countries even to drink the glass on the right would be breaking the law if you drove afterwards in others a sip would be too much see "Wine" below

"Wine
- even a sip will send you over the limit and invalidate your insurance in Parkistan, Cuba, Indonesia, Romania, Jordan and Nigeria, according to Rhinocarhire.com which produces a comprehensive guide."
See this guide for further information
Emergency Telephone Numbers in Europe:
Emergency Telephone number: pan-EU Emergency 112 Can be used in all EU Countries and it can be dialled from a locked mobile or a mobile with no sim card.
Driving abroad - British Government website. Contains general information about driving abroad and gives you the option to search for specific advice by country
Finally, Don't forget your excess cover and buy it before you set off
Excess charges could cost you up to £1,000 or more. Protect yourself by organising your insurance4carrental car hire insurance before you head to Europe.