Key rules, regulations and things to know
Driving: Drive on the RIGHT overtake on the left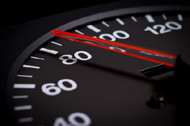 Speed limits : 50km/h (31mph)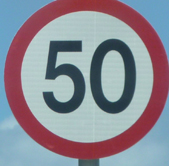 Distances and speed are measured in km/h
Traffic signs: Like the rest of European Countries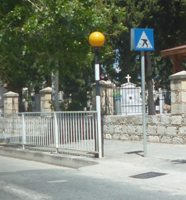 (left - Pedestrian crossing as used in the UK)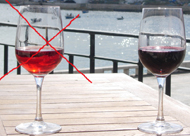 Drink and Driving: Blood alcohol limit is 0.08 More information Here Take great care if you are on holiday and going out to eat. Remember the drink drive limit is very low, so it is safer not to drink when you drive and the roads are narrow.

Seatbelts: Must be worn by driver and passengers in in the front and rear of the vehicle. Children under the age of 3 must use a child restraint appropriate to their age. See Government of Gibraltar Seat Belt Rules .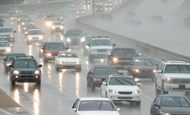 Headlights: The vehicle's lights must be dipped when used.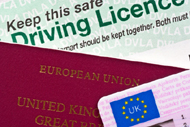 Driving Licence: Visitors to the country can drive using their national full driving licence or a current international driving licence, the minimu age to drive a car is 18. If you want to hire a car you have to be 21.
Minimum Driving Ages European Countries - Here
Horns: Use of the horn is restricted to emergencies only.

Parking is strictly difficult and your car can be removed if the street needs cleaning. Clamping is used and fines of around £60 common.

Disabled Parking:
The Blue Badge cheme operates throughout Gibraltar and the European Union and is administered by the Department of Transport who deal with applications
-
More information Here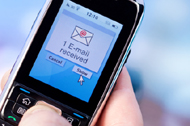 Mobile Phones: The use of mobile phones while driving is strictly prohibited. You can get a
fine of £100 for a first offence or second time £200.
More information Here
Currency: ó Pound Sterling [Gibraltar Pound] (£) Currency Conversion Here
Electricity Voltage: 220/240 V - Square 3 prong plugs (Like UK, Ireland, Malta, Singapore, Malaysia and Cyprus although some continental European 2 pin plug are used)
Telephone Country Code: +350
Population 2010: 29,244 Land Area: 6.8 Km2
Emergency Telephone number: pan-EU Emergency 112 Can be used in all EU Countries and many other ones as well and it can be dialled from a locked mobile or a mobile with no sim card. We have driving guides for those countries marked in red below (plus other non EU member European countries).
Austria - Belgium - Bulgaria - Cyprus - Czech Republic - Denmark - Estonia - Finland - France - Germany - Greece - Hungary - Ireland - Italy - Latvia - Lithuania - Luxembourg - Malta- Netherlands - Poland - Portugal - Romania - Slovakia - Slovenia - Spain - Sweden
It is not a lot and in some countries even to drink the glass on the right would be breaking the law if you drove afterwards in others a sip would be too much see "Wine" below

"Wine
- even a sip will send you over the limit and invalidate your insurance in Parkistan, Cuba, Indonesia, Romania, Jordan and Nigeria, according to Rhinocarhire.com which produces a comprehensive guide."
See this guide for further information
Finally, Donít forget your excess cover and buy it before you set off
Excess charges could cost you up to £1,000 or more. Protect yourself by organising your insurance4carrental car hire insurance before you head to Europe.