When does it operate:
Current Congestion Operating Hours are 7:00AM — 6:00PM Monday to Friday, excluding Public Holidays. ( may no longer be correct so check - Editor)
For more information visit site by clicking on logo on left
Voltage: The standard electrical voltage in England/ Britain is 240 v AC, 50HZ. A three square pronged adapter plug and/or electric converter for appliances is required - Like Cyprus,Ireland & Malta
Country Telephone Code: +44 (For Wales - Scotland - Northern Ireland as well)
Currency: Pound Sterling [United Kingdom Pound] (£) Currency Conversion Here (For Wales and Scotland as well)
Population 2006: 50,093,100
Land Area: 130,395 Km2

FACT FILE — SCOTLAND:
Scotland: Forms the top part of the Island and the country is also made up of some 186 islands including the Orkneys, Hebrides, Shetlands and Arran. The mainland is predominantly mountainous. The Highlands are well known for their scenic grandeur. There are plenty of picturesque Lochs (lakes). The main mountain ranges are the Grampians and they have the highest peak in Scotland / Britain — Ben Nevis.
The capital is Edinburgh and other major cities are Glasgow, Aberdeen and Dundee. Temperatures are generally colder than in southern England — Edinburgh from 3.5 degreesC in January to 14.5 degees C in July. In winter there are the ski resorts and fishing is very popular as well as the country having many golf courses including the famous St Andrews.
English is generally spoken, but a percentage of Scots speak the Scottish form of Gaelic. This is mainly in the Highlands and islands. Cuisine is very good and remember when you are in Scotland, you are in the home of Scotch whisky.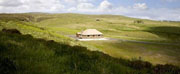 Additional information about Scotland - Scottish Islands and Regions
There are 95 inhabited islands in Scotland with a total population of just under 100,000.
The Outer Islands — Shetland, Orkney and the Western Isles
The islands of the Inner and Outer Hebrides lie at the very edge of Europe and have a rugged natural beauty, with unspoilt beaches, plentiful wildlife and a unique culture and traditions. Orkney and Shetland share many of these qualities together with archaeological sites, burial mounds, stones circles and settlements of the earliest peoples.
The islands have a Norse heritage that is evident everywhere . There are also thousands of birds and other wildlife that make their home in these isles.
The Scottish Highlands
If you are looking for spectacular mountains, majestic glens and mirror-like lochs form the perfect backdrop to picturesque towns, isolated crofts, towering castles and pagoda-topped distilleries the Scottish Highlands have so much to offer. A startling variety of wildlife also makes its home in the sea-lochs and glens where an unbroken thread of human history reaches back into the mists of time.
The great outdoors combine History, legend, romance to guarantee visitors a warm Highland welcome and a truly memorable holiday. Whether you are looking for an action-packed adventure, a taste of the local culture and history, or just complete peace and quiet, the Highlands of Scotland is a place well worth visiting.
Argyll, the Isles, Loch Lomond, Stirling & the Trossachs
If you want to savour the atmosphere of Hebridean islands, the charm of rural villages and the natural frontier which separates the rugged grandeur of the West Highlands from the gentler beauty of the Lowlands this is the place to visit. You can trace the footsteps of heroes like St Columba, Sir William Wallace, Robert the Bruce and Mary, Queen of Scots and villains like the notorious outlaw Rob Roy.
It is an area where you may see an eagle, an osprey, a wildcat, a fine antlered stag or even whales and dolphins. And if the fancy takes you, you can enjoy the spectacle of a Highland Games, the warmth of a traditional folk night or the flavour of a local food festival. Scotland's first great travel writer, Sir Walter Scott wrote of the landscapes around Loch Katrine in his best-selling poem, the Lady of the Lake.
Edinburgh & the Lothians
Robert Louis Stevenson said that Edinburgh is what Paris ought to be. The capital city has magnificent architecture shifts from the lofty tenements and narrow streets of its medieval Old Town as they tumble down the spine of the Royal Mile, to the grace and geometric precision of the Georgian New Town. Above it all, in its towering splendour, stands the Castle. An enchanting walk around the city will reveal an alleyway leading to an ancient courtyard.
Outside the city, the Lothian countryside provides a beautiful setting for the rich gems of the capital. This is an area steeped in history, filled with castles, great houses and battle sites. It's also the ancient home of the game of golf and you can find some of the great golf links and parkland courses of the world here. In fact, the trails and parkland and miles of glorious coastline in the Lothians open up the countryside for everyone — from the fine golden beaches, to ramblers high in the Pentland Hills.
Greater Glasgow & the Clyde Valley
Vibrant and energetic, Glasgow enjoys a year-round buzz that visitors just love. This is particularly true of the city's arts scene. Over 200 arts organisations, including Scottish Ballet and Scottish Opera, are based there, creating the cutting-edge productions and attracting high-profile exhibitions that led to the city being crowned as a European City of Culture.
In 1999 Glasgow was the UK's City of Architecture and Design and its architecture is certainly an attraction in itself. Central Glasgow's Manhattan-style town planning affords many sweeping vistas of the city's impressive Victorian buildings, dotted with little gems from the medieval to the present day. But it¿s the Art Nouveau 'Glasgow Style' for which the city has become famous and no one should miss the work of Glasgow's most celebrated sons, architect and designer Charles Rennie Mackintosh.
Surrounding the city is some of the best of Scotland's scenery, from the rolling hills of the Clyde Valley to the beautiful walking country of East Dunbartonshire that borders the south-west Highlands. Exploring further, you'll find that many of the towns and villages in the area such as Paisley, Hamilton, Biggar, Greenock, Gourock and of course the breathtaking New Lanark World Heritage Site make great day excursions from the city and offer a range of attractions that make discoverng their rich history a real joy.
Perthshire, Angus & Dundee and the Kingdom of Fife
From the rolling heather moorland of Rannoch in the west, all the way to the well-manicured golf courses and path network of coastal Fife, you'll soon discover that Scotland's heartlands are an area with an astonishingly diverse terrain, with plenty to attract and entertain visitors. And in between, the Angus Glens with their unspoilt wildness and sense of space make for the perfect escape.
The area also boasts some of Scotland's most attractive towns and cities: Perth, with its upbeat air, busy shops and relaxing pubs and wine bars; Dundee, dynamic and ideal for a cultural fix; Pitlochry and Aberfeldy, friendly,small-scale and welcoming, while not forgetting the pantile houses and colourful harbours of Fife's East Neuk — that is a photographer's paradise. Moving away from habitation, the region offers plenty of active opportunities, from fabulous golf on some of the world's most famous courses to more adventurous alternatives, all set against countryside and coastlines rich with abundant wildlife
South of Scotland
Here you will find rich, rolling farmland, rugged sea coasts and Clyde coast islands characterise the south of Scotland. It's a land of ancient abbeys, castles and historic houses and also boasts strong literary connections, with both Robert Burns and Sir Walter Scott having lived here. The real Scotland starts right at the border with England. You will immediately find different accents in the shops and different names for beer in pubs are just two of the ways in which Scotland stamps its own personality straight away. Even some of the money is different with many of the Scottish banks issuing their own bank notes. The scenery changes and the hazy blue peaks of the Cheviot and Eildon Hills running out to a wide horizon have lifted the hearts of generations of travellers at Carter Bar on the A68.
There are then the forests and wild moors of upland Galloway and the vivid greens of Ayrshire's rich pastures, with the steep mountainous profile of the island of Arran as a backdrop. Wherever you travel here, you can be sure of a real Scottish experience.
Counties in Scotland
Aberdeenshire, Angus, Argyll and Bute, Clackmannanshire, Dumfries and Galloway, Dundee, East Ayrshire, East Dunbartonshire, East Lothian, East Renfrewshire, Edinburgh, Falkirk, Fife, Glasgow, Highland Inverclyde, Midlothian, Moray, North Ayrshire, North Lanarkshire, Orkney Islands ,Perth and Kinross, Renfrewshire, Scottish Borders, Shetland Islands ,South Ayrshire, South Lanarkshire, Stirling, West Dunbartonshire ,West Lothian, Western Isles
Population 2006: 5,078,400
Land Area: 78,782 Km2

FACT FILE — Wales Cymru:

Welcome to Wales — Croeso Cymru- Wales is the smallest of the three countries in Britain. It occupies a broad peninsula on the west side of Britain. The country also includes the island of Anglesey (with fast catamaran car ferry connections to Ireland). The country is almost entirely mountainous with two main ranges, the Cambrian that extend north to south through the centre and Snowdon in the north, the climate is very similar to that of England. It has always maintained its historical independence and individuality and has it's own parliament — the Welsh Asembly (although most major laws are still passed at Westminster, London).
Language: The official languages are English and Welsh and you will see that most signposting on the roads and street signs are in two languages.
Population The shape and nature of the land have a huge influence on population. About half the population live in the south in an around the Cardiff, Newport and Swansea area.Travel into the hills and mountains and the population soon becomes thinly scattered across large areas dotted with the occasional small town/village.
Climate Wales is a mixture of weather patterns. It has been said Wales is green because of the rain. Not so true as many parts of the country have average or below-average rainfall — it even boasts some of the sunniest spots in Britain
The Counties of Wales - There are 13 counties in Wales: Anglesey — Sir Fôn. Brecknockshire — ( Breconshire ) Sir Frycheiniog Caernarfonshire — (Carnarvonshire) Sir Gaernarfon Cardiganshire — Ceredigion or Sir Aberteifi Carmarthenshire — Sir Gaerfyrddin Denbighshire — Sir Ddinbych Flintshire — Sir y Fflint Glamorgan — Morgannwg Merioneth — Meirionnydd Monmouthshire — Sir Fynwy Montgomeryshire — Sir Drefaldwyn Pembrokeshire — Sir Benfro Radnorshire — Sir Faesyfed (Powys covers the former administrative counties of Montgomeryshire and Radnorshire, most of Brecknockshire, and a small part of Denbighshire)
Cardiff the capital City of Wales
It celebrated its centenary in 2005 It is a vibrant city that has undergone a major transformation of the last few year with the docklands development being transformed into a stunning waterfront with a wealth of attractions, leisure facilities and its own Visitor Centre 'The Tube' to keep you informed. There is also the Millennium sports stadium that has been home to English football final whilst Wembley stadium has been rebuilt. It has a thriving cultural scene, accommodation to suit all budgets, a diverse mix of entertainment, restaurants and bars and some of the best shopping in the UK. It also has the advantage of being very close to the sea.
Cardiff's arts facilities are exceptional, with the National Museum and Gallery housing the second largest Impressionist collection after Paris. Cardiff's Bay has been transformed into a stunning waterfront with a wealth of attractions, leisure facilities and its own Visitor Centre 'The Tube' to keep you informed. South Wales is strewn with castles and Cardiff has its fair share; most notable the stunningly elaborate Cardiff Castle located in the centre of the city. On the northern edge of Cardiff, set in the wooded hillside, is the fairytale Castell Coch (Red Castle) located.
Other major towns and cities are:
Newport - a busy industrial town that is close to Cardiff and benefits from all of the capital's facilities and infrastructure. Swansea is the country's sesond largest city and like Cardiff the dockland area has been extensively redeveloped as a leisure centre and marina. Holyhead has excellent road connections with the new A55 from the north coast of Wales and Chester border area connecting it to the port (Fast ferry services to Ireland) Also: Ruthin, Porthmadog, Llangollen, Llandudno, Llanberis, Caerphilly, Caernarfon, Betws Y Coed, Aberystwyth
Population 2006: 2,952,500
Land Area: 20,779 Km2
Source jmlvillas.com - (some of this information has been provided by jmlvillas.com clients)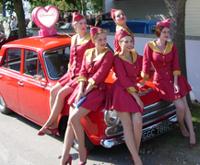 Goodwood Revival 10 years on - 2008 - Back in 1948 the motor racing circuit a short distance from Chichester and the Sussex coast was the home to the first post Second World War motor race and then it ended in 1966.In 1998 it all started again with the first Goodwood Revival and it's the 10th anniversary on the 19th to 21st September 2008
Glorious Goodwood Nostalgic Trip Down Memory Lane By Dick Suter Article from 2001 Here

Will be leaving at end of January 2020 Emergency Telephone number: pan-EU Emergency 112 Can be used in all EU Countries and it can be dialled from a locked mobile or a mobile with no sim card. We have driving guides for those countries marked in red below (plus other non EU member European countries).
Austria - Belgium - Bulgaria - Cyprus - Czech Republic - Denmark - Estonia - Finland - France - Germany - Greece - Hungary - Ireland - Italy - Latvia - Lithuania - Luxembourg - Malta- Netherlands - Poland - Portugal - Romania - Slovakia - Slovenia - Spain - Sweden - United Kingdom
It is not a lot and in some countries even to drink the glass on the right would be breaking the law if you drove afterwards in others a sip would be too much see "Wine" below

"Wine
- even a sip will send you over the limit and invalidate your insurance in Parkistan, Cuba, Indonesia, Romania, Jordan and Nigeria, according to Rhinocarhire.com which produces a comprehensive guide."
See the guide below for further information
Emergency Telephone Numbers in Europe:
Emergency Telephone number: pan-EU Emergency 112 Can be used in all EU Countries and it can be dialled from a locked mobile or a mobile with no sim card.
UK Police NON EMERGENCY to local Police - 101
Emergency 112 or 999
Driving abroad - British Government website. Contains general information about driving abroad and gives you the option to search for specific advice by country
Finally, Don't forget your excess cover and buy it before you set off
Excess charges could cost you up to £1,000 or more. Protect yourself by organising your insurance4carrental car hire insurance before you head to Europe.