Key rules, regulations and things to know
Driving: Drive on the right and overtake on the left.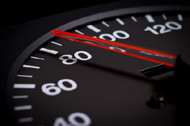 Speed limits: City: 50km/h (31mph) Open Roads: 90km/h (56mph) Highways: 90km/h (56mph) Motorways: 113km/h (70 mph)
Driving Age: The minimum driving age is 18yrs - Minimum Driving Ages European Countries - Here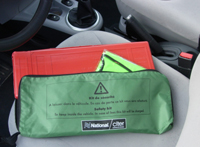 Warning / Emergency Equipment: Vehicles must have two warning triangles in case of an accident

Seat Belts: Seat belts are compulsory in front seats and rear seats. Children under the age of 12 years must not sit in the front seat.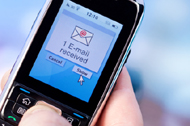 Mobile Phones: It is illegal to use a hand-held mobile when driving. Don't risk using one as you can receive a heavy fine in most countries and more important cause a serious accident.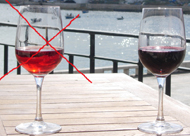 Drink and Driving: Blood alcohol limit is 0.05 - The police can collect fines on the spot - More information Here - This is a very low limit, so it better not to drink and drive.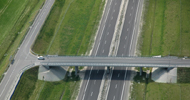 Toll Roads: There are road tolls charged between the following locations; Edirne and Istanbul, Istanbul and Izmit, Izmit and Gebze, Tsarsus and Pozanti, Ankara and Gerede.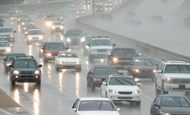 Headlights: You should use dipped headlights when visibility is and after sunset in built up areas. Headlights should always be used when driving.
Sounding your horn: You must not use the horn in towns between 2200 until sunrise.Use of the horn is illegal except in cases of immediate and extreme danger or the Holiday Autos guide below says "Use your horn to alert pedestrians you are coming. They don't seem to notice cars."
Right of way: Right of way always belongs to traffic coming from the right
Accidents: In the event of an accident the police must be called and a report obtained.

Parking: There is no metered parking in Turkey.Tou will find parking officials who are in the streets and collect fees for street parking. Most cities have parking garages and other public car parks.
Driving in the main cities: According to
-
It is best to avoid driving into the major cities, especially Istanbul and Ankara where driving is at its most chaotic.
Editors's Note: Back in 1993 taking a family holiday to the Bodrum Peninsula, we rented a car for a couple of weeks. The guide book had warned that driving could be dangerous. It was not, although you could be travelling along a road and suddenly have to slow down for carts and donkeys.
Riding in a Dolmus which are shared taxis, usually minibuses was also safe. I have heard a story of a friend who sat in the front of one of these and there were so many people in the vehicle that the driver could not change gear, so one of the passengers had to do this for him. Probably the most dangerous experience was buying petrol, where the petrol attendants smoked whilst filling the car with petrol. In 2011 it has all probably changed.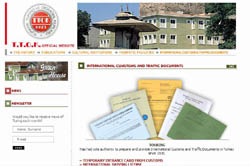 Touring and Automobile Club of Turkey - (TTOK) To enter the site, click on the image above left

Disabled Parking:
The Blue Badge is recognised in all European countries
-
More information Here
There is plenty to see and do in Turkey, the crossroads of Europe and Asia. The sights and activities here range from belly dancing, scuba diving, bazaars, beaches, and ancient temples. The sands are golden, the seas are deepest blue and the culture is just as colourful. Hiring a car opens up great possibilities for exploring this vast country. If you are interested in visiting the historic sites, you will appreciate having the flexibility to visit some of the most spectacular ruins off the main excursion routes.
Most of the popular resorts are nestled between the mountains, which makes for a wonderful backdrop for your holiday. Whether you are seeking a cultured escape or a relaxing getaway, Turkey certainly offers the best of both worlds.
Things to See and Do
Visit Istanbul's Grand Bazaar, it is the world's largest covered market.
Learn a new water sport in the Aegean and Mediterranean coastal resorts.
Charter a traditional wooden boat known as a 'gulet'. Try white water rafting on the Dalaman River, Koprulu River, Zamanti River, or the Coruh River.
Visit a Turkish bath.
Visit the Roman theatre at Aspendos. The best way to appreciate the largest and best preserved theatre in Anatolia is by attending the summertime opera and ballet festival.
Visit the underground city, Kaymakli which was burrowed out of soft volcanic tuff, this subterranean labyrinth provided refuge for Cappadocians from the Hittite through to the Byzantine eras.
Visit the "Beehive" houses in Harran, mud-built dwellings in Harran; they are inhabited by ethnic Arabs.
See the whirling dervishes, members of a sect founded by the Konya-based Sufi mystic Mevlana conduct "turning" ceremonies to effect a union with God.
Drinking tea, Apple has been the Turkish national drink since the 1930s, and it's available everywhere, at almost any hour.
Festivals and Events
The International Asia-Europe Biennial celebrates the countries ties between both Europe and Asia. (May – June)
The International Theatre Festival allows visitors to enjoy theatrical works from around Turkey and Europe. (May)
Visit the International Istanbul Music Festival and watch an array of classical and opera performers in Istanbul. (June)
Rock'n Coke organised by Coca Cola is a popular rock festival. (July)
Over one million people descend on Konya to appreciate the Whirling Dervishes Festival. (December)
Information from holiday autos about Turkey
It's sunny, it's delightful and is packed with history. Book car hire Turkey and explore ancient cities and white sandy beaches. Turkey has it all. We've eight places where you can pick up your car rental. So look no further for cheap car hire in Turkey for that perfect road trip across the country.
Be aware some local car rental companies will tell you that insurance is not necessary. Don't listen to them. Make sure you're covered for any eventuality when booking Turkey car hire.
car hire in Istanbul - Istanbul. It's hot, it's happening and we love it. It's also a great base to book car hire and explore northern Turkey. No visit to Istanbul is complete without a trip to the Blue Mosque. It's not blue but it's pretty impressive all the same. You won't see Brad Pitt, but drive to Troy and you'll see a replica Trojan Horse. It'll take about four hours from Istanbul in the car.
top driving tip - Use your horn to alert pedestrians you are coming. They don't seem to notice cars.

FACT FILE — TURKEY
Turkey is a country with a lot to offer: tranquil sandy beaches, an impossibly turquoise sea, an unrivalled reputation for hospitality, a cuisine to die for and a vast array of delightful scenery with a host of animals, birds and greenery dotted with spectacular mosques and castles.
There are an enormous variety of things to see and do ranging from water sports to mountain trekking, archaeology to night clubbing and river rafting to raki drinking. Whether you leave Turkey with magnificent carpets, amulets to ward off evil, belly dancing tips, an appreciation of its history, or just a tan, you will want to go back for more and more.
Geography: Turkey is a large country of 780,000 square km (about the size of Texas USA) of which 97% is in Asia and 3% in Europe. It has 7,200 km of coastline on three different seas – the Aegean Sea, the Mediterranean Sea and the Black Sea.
Population: 69 Million
Religion: 99% Moslem. Turkey is a secular state with complete freedom of worship for non-Moslems.
Visa: All British passport holders are required to obtain a visa for entry in Turkey. Visas for tourist visits not exceeding 3 months are issued at all ports of entry in Turkey. The fee for each visitor is £10 (payable in sterling) and applies to every individual, even if travelling on a single passport. Other nationals are advised to check with the consulate or embassy in their country.
Health: Vaccination is not required by Turkish Authorities. The Turkish health care system is of a good standard, with many modern, clean hospitals. Walk in private clinics are commonly available which offer an exceptional level of service at a very reasonable price. Turkey is not in the EU so you MUST HAVE travel insurance. Most travel insurance companies cover Turkey under standard European policies. If you are looking for a Low Cost Travel Insurance policy visit our Insurance section
Currency: Turkish Lira. It is approximately 2.6 million TL to one GBP. Note: In January 2005 six zeros have been removed from the currency. Thus it will be approximately 2.6 TL to 1£ GBP Currency Conversion Here
International Dialling Code: + 90
Electricity: 230v, 50 HZ Two pin continental plug
Weights and Measures: Metric
Local Time: GMT + 2
Capital: Istanbul
When to Go: Turkey is a great place to visit from spring through to autumn, with the peak season being from July through to mid-September. Turkey doesn't really have a winter tourism season, with many of the airports closing to international flights and many tourist towns becoming empty.
Costs: Turkey is a comparably cheap country with meals available from just a couple of pounds upwards. £10/€16 will buy a good two-course meal with drink. Tipping is customary in restaurants and is appreciated by the taxi drivers.
Places to see
AltInkum & Kusadas This area is well known for its ancient ruins, the most important being Ephesus. Both towns are ideal for families with golden sand beaches and a variety of entertainment, restaurants and bars to keep you entertained into the night.
Antalya & Belek Antalya has all the activities of a large city but has managed to preserve it's peaceful old quarter. The city has a relaxed liberal air about it, with good restaurants and an active nightlife.Belek is a modern resort 35Km from Antalya and is well known for its golf, with championship golf courses. Belek also has great sandy beaches and is close to the Manavgat waterfalls.
Alanya Alanya occupies a point of land flanked by two great sweeping beaches stretching up to 8km.
The Bodrum area is very is very popular. Bodrum Peninsula is an area of outstanding natural beauty and stunning diversity. The area has 32 islands and islets and 174 Km of coastline. Yachting, swimming, snorkelling and scuba diving are prime activities.
Bodrum itself is a charming and fascinating little port, 270 km. south of Izmir, on the Aegean coast of Turkey. The inhabitants of Bodrum are around 30.000 and earn their living by fishing, boat-building, agriculture, weaving (the village Mumcular is famous for its carpets, kilims and other weavings) and tourism, which has become the most important industry in the last few years. In recent times.
Bodrum has become not only a tourist centre but also a visiting place for famous Turkish and foreign artists and also an art centre, which is a source of inspiration.
The heart of the town is around the harbour, where shops, bars and restaurants jostle together. Cafes and restaurants offer a cosmopolitan choice. To accompany your meal, try the light aniseed flavoured national drink Raki or locally produced wine. After sundown, Bodrum lights up with flashing neon and laser shows to pulsating throb of the latest dance music.
The new airport Milas-Bodrum, is now open and is now available for scheduled Turkish Airlines and International charter flights are now arriving regularly. The long transfer from Izmir or Dalaman now belongs to the past.
Kalkan & Kas Kalkan rises steeply from the harbor side spreading itself high around the bay. Meandering cobbled streets lend themselves to little shops and restaurants where you can while away the hours. Uninterrupted sea views are the order of the day in this little jewel of the coast. Kas is the quintessential Turkish seaside town. Life centres on the town square by the harbour, with its teahouses, restaurants, mosque and shops.
Kemer Kemer is an idyllic city by the Mediterranean ocean with beautiful marina, hotels and restaurants. Kemer has kept its beautiful clean beaches, the fantastic nature, calmness and quietness.
Marmaris, Içmeler, Turunç, Dalyan & Dalaman Ancient and modern combine to make Marmaris a stylish and sophisticated area. Turunc is one of the most beautiful bays along the Aegean coast.
Turquoise Coast: including Göcek, Çalis, Fethiye, Üzümlü, Hisarönü, and Ölüdeniz. This stretch of the Turkish coastline is known as the Turkish Riviera or Turquoise Coast and contains some of Turkey's most dramatic coastlines with crystal clear seas.
Source jmlvillas.com - (some of this information has been provided by jmlvillas.com clients)

Emergency Telephone number: pan-EU Emergency 112 Can be used in all EU Countries and it can be dialled from a locked mobile or a mobile with no sim card. We have driving guides for those countries marked in red below (plus other non EU member European countries).
Austria - Belgium - Bulgaria - Cyprus - Czech Republic - Denmark - Estonia - Finland - France - Germany - Greece - Hungary - Ireland - Italy - Latvia - Lithuania - Luxembourg - Malta- Netherlands - Poland - Portugal - Romania - Slovakia - Slovenia - Spain - Sweden
It is not a lot and in some countries even to drink the glass on the right would be breaking the law if you drove afterwards in others a sip would be too much see "Wine" below

"Wine
- even a sip will send you over the limit and invalidate your insurance in Parkistan, Cuba, Indonesia, Romania, Jordan and Nigeria, according to Rhinocarhire.com which produces a comprehensive guide."
See this guide for further information
Emergency Telephone Numbers in Europe:
Emergency Telephone number: pan-EU Emergency 112 Can be used in all EU Countries and it can be dialled from a locked mobile or a mobile with no sim card.
Driving abroad - British Government website. Contains general information about driving abroad and gives you the option to search for specific advice by country
Finally, Don't forget your excess cover and buy it before you set off
Excess charges could cost you up to £1,000 or more. Protect yourself by organising your insurance4carrental car hire insurance before you head to Europe.